Burford… Challenges All Around
Justin Crumb #74
Round 2 of the Flat Track Canada Championship Series seen some intense action on a very challenging race surface. Even though the overall numbers were up from last year, the total number of experts were way down comparing to any other FTC event. "I think this weekend for us is very difficult to compete with a variety of other major races", says Flat Track Canada President, Aaron Hesmer. "Burford was probably our toughest race we've ever put on to date, things just kept breaking down, including our water truck and the track surface was extremely demanding" and in spite of having major issues, the whole FTC crew managed to help the show flow pretty seamlessly with only minor delays.
  John Parker #11 mentoring Dave Pouliot #16
Lots of action throughout the day produced quite a few upsets in various classes. In the ATV class, last weeks winner Peter Grison had a mechanical failure in lap one, which eventually lead to the victory of Darcy Ryksen over Adrian Van Mourik with 2014 Champ Steve LaGro rounding out the podium.
  Darcey Ryksen #305
Steve LaGro #63
In the DTX Novice class, young gun Dustin Brown came up with another big win on his Honda CRF450, but it was defending Novice Champ Trent Pickle that chose a smooth line that help redeem himself from last week to bring him back up to second in points. Todd Musson rode a very aggressive and impressive ride finishing third, making his first podium finish. In the open class, same type of action yet it was Jarrett Phibbs who placed third over Todd Musson.
  Dustin Brown #91
The Intermediate was basically the show of the day. The heat races displayed a few close calls, one time with Justin Crumb riding the straw bales in turn three like they were a whoop section, only to save it and not losing a position, a pretty impressive rescue for the wild man. Another impressive save was Shane Corbeil quickly avoiding a donned Trevor Daley in turn four. The only one that didn't get a chance to avoid injury was Dustin Lambert, who rode over top of downed rider Tomas Casas in
Open Int main event. Dustin was taken to the hospital for inspection, receiving a minor concussion.
  Shane Corbeil #82 and rider on his head Trevor Daley #16
In the DTX Intermediate race it was Brodie Buchan on a Honda CRF450 with an early lead but lap three Braden Vallee hunted down Brodie and made the pass on a borrowed race bike. Trevor Daley edged out the competition bringing home his ever flat track podium in only his second ever race! Tomas Casas also learning very rapidly brought home a fourth place finish. In the Open Int class it was a bit of a different story. Brodie Buchan was racing a KBR sponsored Honda CRF450 Framer pulling a pretty big lead over Braden Vallee. Daley would once round out the top three.
  Braden Vallee #16T (#23) and Brodie Buchan #49
In the DTX Expert class, Nick Wenzler was leading until he was challenged by KBR rider Tyler Seguin. Wenzler ran it wide going into turn three running it through the bales and down in the corner. Seguin brought home the win on his Honda CRF450 over rookie expert Dave Pouliot aboard his Kawasaki KX450. Sean Hoy rounded out the top three on his KTM SX450. In the Open Expert main, we seen Tyler Seguin ride his Honda CRF450 again to victory with Nick Wenzler and Chris Evans rounding out the top three. Evans had struggled big time on his Harley Davidson XR750. Burford is a pretty rough and demanding race surface which shows in disciplined riding skills over horsepower therefore it was tricky to ride a big bike there.
  Tyler Seguin #22
The 85cc class, it was Hunter Bauer bringing home a win on the Honda CR85 after struggling at Paris last week. Brandon Newman finishing another consistent second place on his Yamaha YZ85 which only puts him one point back in second overall. Local boy Jimmy McCullough finished third on his Yamaha YZ85.
Hunter Bauer #24
   Brian Newman #61 and Boyd Deadman #13
65cc class Brandon Keys looked very fast and very promising on his Cobra. Maguire Scott and Blake Silenzi rounded the podium.
  Brandon Keys #53
Olivia Farkas showed us that she could be the one this year to bring home the title in the 50 Chain class. She had a big win over Easton Ventoso and Spencer Whittam.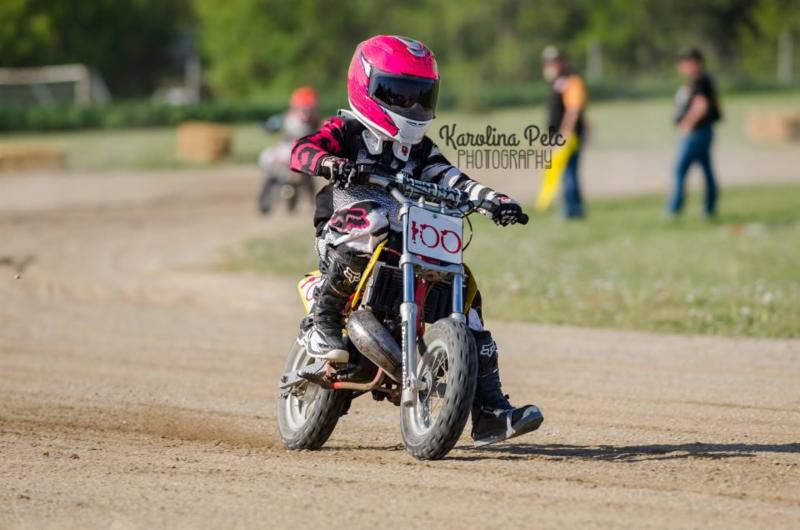 Olivia Farkas #100
Round 3 of the Championship Series will take place in Welland Ontario on June 6th.
For more details please check the schedule page of www.flattrackcanada.com
For Results and Standings please visit http://www.flattrackcanada.com/2015-standings/