Eight Flat Track Stars to Compete in AMA Pro Races in Daytona!
We're less than ten days away from the official start of AMA pro flat track season. Eight fast Canadians will be going to compete in Daytona to represent Canada in the GNC1 and GNC2 classes. Many of which will also be competing in various AMA All Star tour rounds in Savannah Georgia and Volusia Florida as well.
The first and second round of the AMA Pro Flat Track Series will be hosted at Daytona International Speedway in Florida March 10
th
7pm and March 11
th
7pm. The event will be live streamed at
www.fanschoice.tv
. Be sure to watch and support the local racers. It's been quite a few years since that many Canadians have been to an AMA Pro Flat Track race to compete. Daytona Flat Track is notoriously known for being a challenging race track therefore many wildcard racers tend to do very well at the venue.
The lineup includes defending Canadian National Champion Doug Lawrence, #73, Mississauga Ontario, will be racing GNC1 on his Honda CRF450. Doug is looking to hopefully podium at Daytona even though he openly admits he tends to struggle at that track.
Doug Lawrence also just recently signed a deal with PARTS CANADA and we figure he'll look 'Fresh' in his new HJC Helmets, Alpinestars & Thor gear. Doug is also supported by Town Moto, John Briggs Motorsports, CVC agency, American Harley Davidson, Jon Castin, Motion Pro, Vortex, K&N, One Speed, Works Connection and West Coast Hot Shoe.
Past Canadian Champion Don Taylor, #53, Port Colbourne Ontario, is looking to make a big comeback to racing in 2016. Don has been building an intensive race program and getting into the best physical condition he has ever been. His plans are to take back the Canadian Championship and be very competitive in the AMA Pro Flat Track GNC1 series in 2016. Don will be racing a KTM SX450 sponsored by Waters Autobody Racing.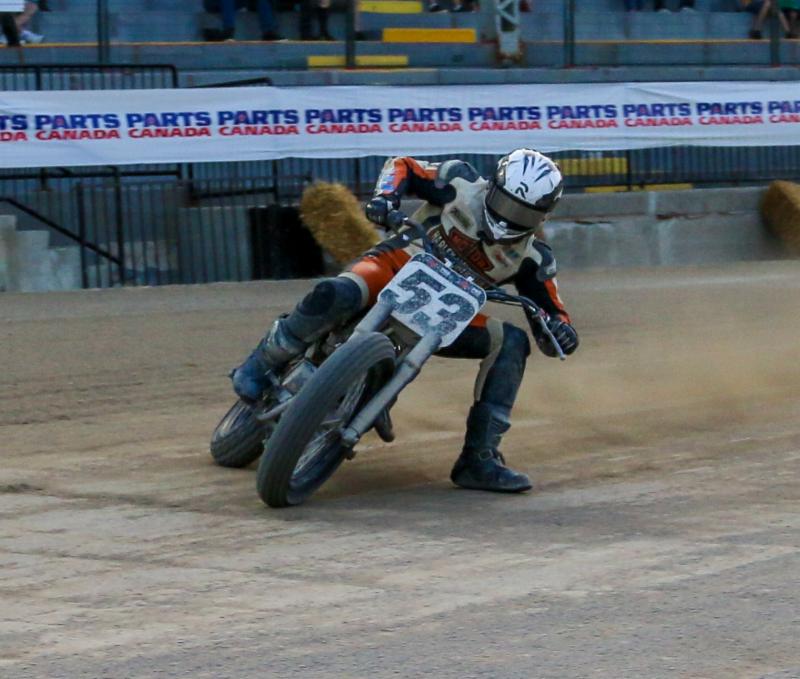 Mike LaBelle, #88, Welland Ontario, just recently earned his national number in the GNC1 series in 2015. He will be wearing his new #88 and making Canada proud on his Clare's Cycle and Sports Honda CRF450 and also supported by LeBelle Racing, Woody Kyle, Fasdass Plates, Saddlemen, Spidergrips, Trax Racing, Luczak Racing, Bell Helmets Vortex, Motion Pro, Platinum Auto, Cycra, Chris Murray Racing and Harrington Heating and Cooling.
Another great racer making his debut to AMA Pro Flat Track GNC2 is Tyler Seguin, #22T, Welland Ontario. Many friends and family felt his debut was long overdue so many chipped in to help support Tyler to make his move forward into succeeding his dreams of representing Canada. Tyler will be competing on the Jeremy Deruyter Honda CRF450. Tyler also receives support from KBR, Performance ATV & Leisure, Works Connection, Motovan, Mommaz Boyz, and Diamond Detailing.
Brodie Buchan, #49T, Wheatley Ontario, is also making his debut to GNC2 AMA Pro Flat Track. Brodie is certainly one of Canada's youngest and most promising expert level racers. Depending on track conditions, the track could very well favour Brodie for a possible podium finish. Brodie will be competing on a Honda CRF450 sponsored by KBR and 26 Suspension.
Dalton Gautier, #14A, Sherbrooke Quebec, Dalton currently resides in York, Pa but the Quebec native plans to make his return to Canadian Racing in the Flat Track Canada Championship Series in 2016. Dalton made the podium in 2015 while competing in the GNC2 class at Daytona. We wish Dalton well on his Spectro Oils and Evans Cooling Yamaha YZF450.
Clayton Isherwood, 39T, Welland Ontario, will also be competing in his first GNC2 race in Daytona aboard his Honda CRF450. Clayton would like to thank Performance ATV and Leisure, Comet Racing Leathers, Outlaw Productions and 26 Suspension.
Trent Pickle, #98, Wheatley Ontario, will also be competing in Savannah Georgia and Volusia Florida to help gain experience. Trent is moving into the Intermediate ranks in Canada and is one of Canada's most up and coming young racers.
Don Galloway, #35T, Edmonton Alberta, will be representing the west coast of Canada in the ARMHA and All Star Series. Don will be racing a number of vintage bikes and classes sponsored by Cycle Works.
We wish all the racers well and we're looking to see everyone at the Flat Track Canada Championship opener in Woodstock, Ontario Saturday May. 14th.